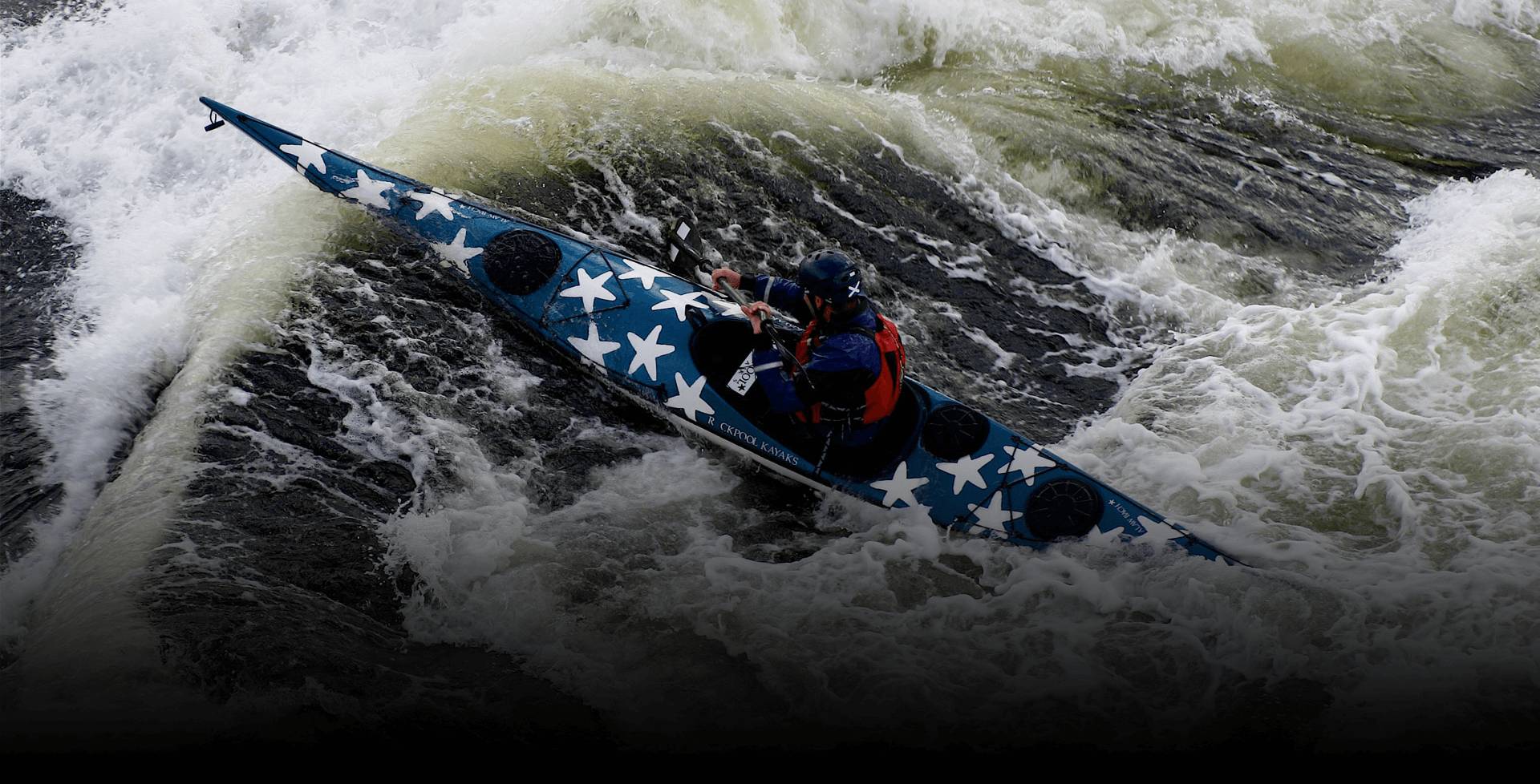 Cutting-Edge, High-Performance
Sea Kayaks
To the Inuit, Nanuq was the boss polar bear. To shamans, the dancing bear was the transition between human beings on earth and the spirit of those who have gone on or are far away. Our adoption of Nanuq and the dancing bear represents our homage to Inuit culture and the Greenland-style boats, paddles, and gear they created, now used in updated forms.
We honor the Inuit heritage and culture of caring for the environment, sharing their knowledge of the sea and survival, and acting responsibly toward the safety of others.  This theme permeates our practices, whether it be in sales of dependable high-quality gear, proper selection of kayaks and paddles to match and advance the skills of the buyer, or teaching good paddling skills.  Ensuring a proper fit of buyer and kayaks is something  we take very seriously.  It is an important factor in a safe and rewarding paddling experience!

BOAT REPAIR AND REFINISHING
Expanding our boat repair services;  we can and do service and repair kayaks that are polyurethane, fiberglass and/or carbon-kevlar in construction.  If you want us to do some work, the best is to send photos of your boat or bring it by so we can see it and recommend what, if anything, should be done.
Product Deliveries Impacted By Covid and Demand
COVID SURELY IMPACTED US AND EVERYONE ELSE. WHILE WE'VE HAD SUPPLY PROBLEMS IN THE PAST AND DON'T EXPECT THEM ALL TO DISAPPER, DELIVERIES ARE NOW BACK TO RELATIVE NORMAL, BETWEEN 3-4 WEEKS FROM ORDER FOR IMPORTED PRODUCTS, A BIT SHORTER IF DOMESTIC SUPPLIERS HAVE IN STOCK. WE WILL DO OUR BEST ALWAYS TO SUPPLY YOUR NEED. FINALLY, OUR INVENTORY IS CONSTANTLY CHANGING. THE BEST THING TO DO IS COME BY. 2ND BEST, CALL OR EMAIL US WHAT YOU NEED.
Designed for the intermediate/advanced paddler. A unique design, stepping away from the traditional look of a British sea, kayak into a class by itself. Speed, handling, stability, and carrying capacity blended into a unique whole. Available in 18 feet, 16 feet, and reduced volume.
A refreshing combination of stability, speed, and responsive handling. Amazing maneuverability while maintaining speed. Volume in the nose and tail above the waterline has been increased to smooth the ride in the surf.
A low-volume version of the Taran 16 record-breaking design!  Developed in response to popular demand, the Tarantella is designed specifically for the the smaller and lighter paddlers.  It features the same distinctive bow, long waterline, high front deck and flat hull as the Taran 16, making it a fast and dry kayak, up-wind and down.