Why a GP? To us the advantages are many. The light weight means you lift fewer pounds per stroke. The low stroke used means you don't have to "lift" your arms as you do with a higher angle stroke needed with the Euro-blade. You focus on torso turning to use the GP efficiently decreasing wear and tear on your shoulders and upper body. Its extremely forgiving. You always know where the blade is. It rolls like a bandit. No worries about which face is up or down. The buoyancy, simplicity and sheer art connect you to your boat and the water as nothing else. Why has it been used for over 1000 years? Because it works.
GREENLAND PADDLES – ONE- AND TWO-PIECE MADE IN CANADA
Custom-built Greenland paddles are as functional as they are beautiful. The paddles are meticulously crafted of striking woods and are available in 1-piece and 2-piece designs. Our selection is always changing, as these paddles are handmade and one-of-a-kind. The two-piece paddles have a carbon fiber ferrule but are otherwise identical to the one-piece.
All our wooden paddles are built by a master paddle maker in Canada... Joe has built over 1000 paddles and has over 40 years of paddling experience, including setting the speed record for circumnavigating Vancouver by sea kayak.
We stock many lengths; however, can also make custom to fit under or oversized paddlers; paddles are laminated for strength; finished with light oil.
Pricing: $300 for a one-piece, $375 for a two-piece. You can buy from our inventory, or we can order made-to-measure
GREENLAND PADDLES – KALLEQ BY GEARLAB
Greenland paddles are made by Gearlab; Model is Kalleq; leading Carbon Kevlar paddle in the world; We also carry paddle bags, deck bags, and paddle pockets (a device you use on the deck of the boat to carry a spare two-piece paddle).
Lengths : 210, 220, 230 cm; two piece;
Price: $475 plus shipping; light; strong; stiff; handles everything; great for rolling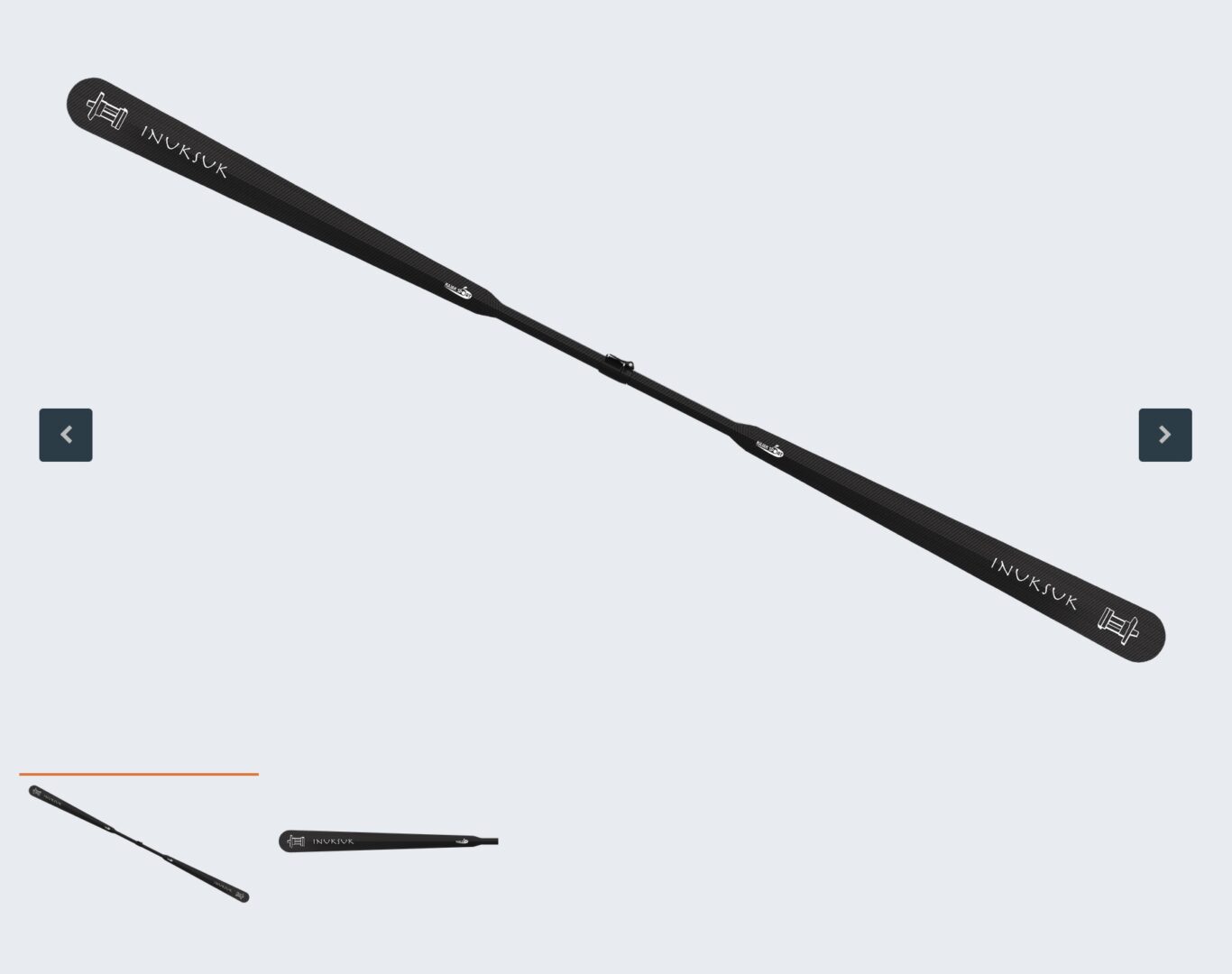 Inuksuk is Kajak Sport's flag ship in paddles. Handcrafted West Greenland style paddle, made in Finland. Solid, strong yet light full carbon core paddle with stunning matt finish. Well balanced construction with buoyant blade and oval loom creates light and effortless feel. Smooth and well rounded thin edges allows quiet catch and confident stroke. Inuksuk is equipped with unique Kajak Sport oval shaft ferrule to allow easy split and length adjustment!
Price: $465 plus shipping; light; strong; stiff; handles everything; great for rolling.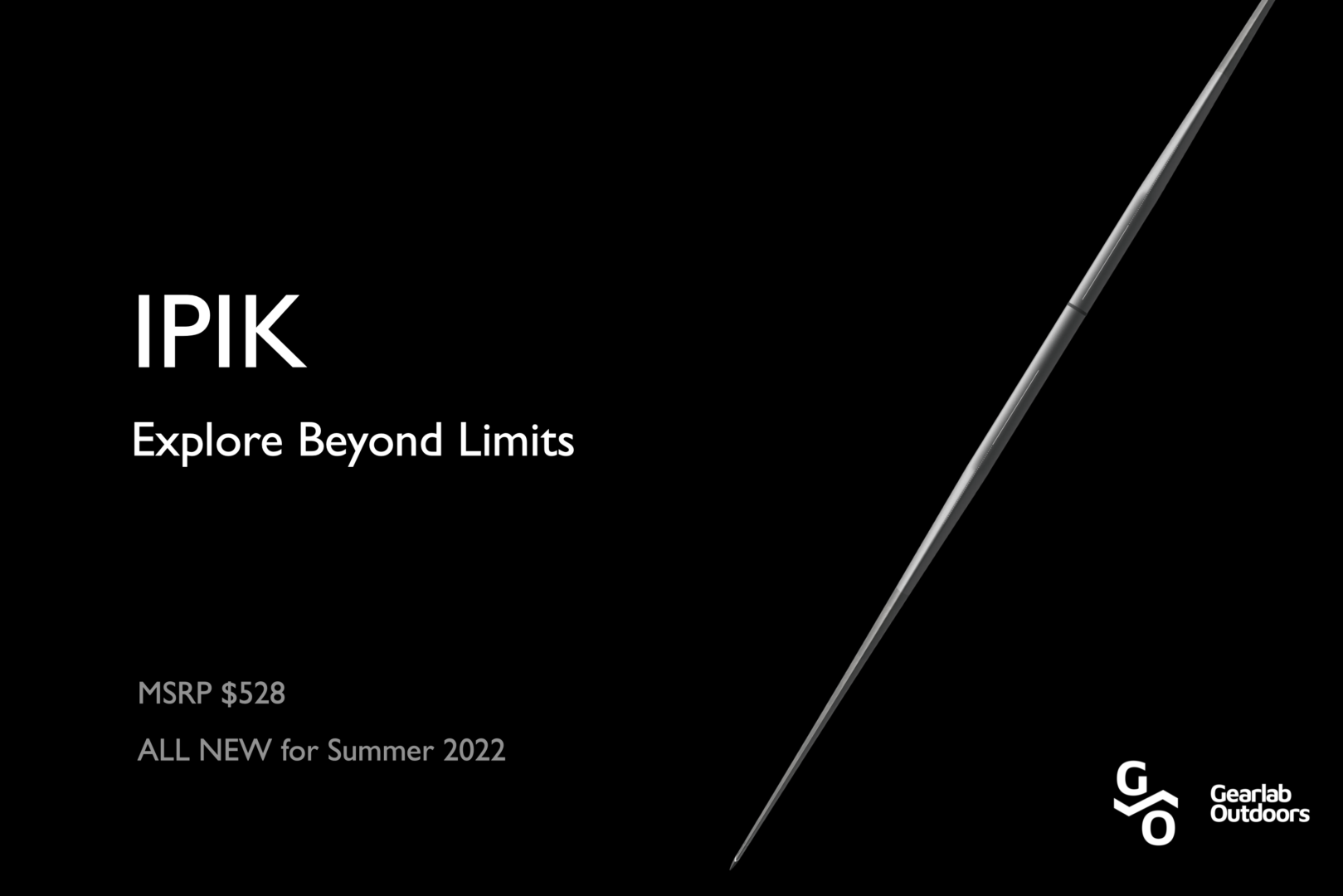 GEARLAB'S LATEST: The IPIK (IPIK is Inuit for Sharp).
The new IPIK is the first oval loom in Gearlab's line-up. Oval loom provides additional directional control and ergonomic comfort.
Weight: Just under 600 grams, IPIK is the lightest paddle in Gearlab Outdoors.
Technology: Yet thanks to a revolutionary 3D continuous carbon winding technology, it provides the strongest weight to performance ratio.
IPIK is soft shouldered! (Kalleq - smooth, IPIK - shouldered)
Price: $586 plus shipping; light; strong; stiff; handles everything; great for rolling
We source a variety of Euro-blade paddles depending on the needs of our customers. Everything from a sea touring narrow blade to a high grab full blade to a wing-shaped blade for speed can be ordered specifically priced and sized for the individual. Because of the wide variety, we offer and our focus on Greenland paddles, we do not keep inventory on hand.
Average water temperatures
here in Portland, Maine are:
Maine weather can be deceiving when you're heading out on the water. The air temperature might be warm, but the ocean temperatures here in Casco Bay take much longer to moderate, remaining cold into June. When you're wet, you lose heat 25 times faster than when you're dry.
Check out some of the gear below, that we recommend for staying both dry and warm.
Comfort in Demanding Environments
Come check out Nanuq's selection of Reed apparel:
We do not carry neoprene for environmental reasons. Reed products are made of a proprietary product called Aquatherm, which is thinner, waterproof, rainproof, breathable, extremely flexible, and far more abrasion resistant than neoprene.
Kotatat produces top level paddling clothing and gear for tough weather. We source pfds ranging from low volume to mesh, to full on rescue, dry pants, paddle tops, storm cags, SPF50 long and short sleeve shirts from this reknown USA source.
This Moscow, Idaho company started life as a source of products for river runners in the 1970s and has since grown to one of the premier manufacturers of gear for paddle sports of all kinds. We source PfDs, frigid paddle gloves and mittens, dry pants, dry suits, knives, and assorted safety gear as well as kayak roof carriers from NRS. Some of their products are shown here. More are in the store.
The Peak UK Kayaking Company is located in the heart of the Derbyshire Dales, near to the River Derwent at Darley Bridge, UK. In 2012 they built a purpose built factory on the edge of the Peak District National Park. The new premises enabled them to pioneer our production of custom kayaking gear in time for the London 2012 Olympic Games and their newest innovation, the Racer ST, which claimed gold and silver at Rio in 2016. We are using them to source a new form of neoprene, known as Bioprene made from sea shells (limestone). The award-winning Peak Eco range features products that contain recycled yarns and zero plastic packaging. We continue to urge all manufacturers to work with environmentally sensitive fabrics products and processes. We are also sourcing special high end PFDs from Peak UK and expect to rapidly expand this line in time.
Stohlquist products are the result of a lifetime of hands-on paddling, entrepreneurial spirit, craftsmanship and design experience of the company founder and president, Jim Stohlquist. Each model we offer follows the lineage of 40+ years of product innovation and refinement, incorporating the latest in raw material development and manufacturing know-how to provide our customers with the best WaterWare available today. We are particularly pleased to use this Buena Vista supplier for specific women's PFDs. We expect to expand this new relationship with a consider range of pfds as they become more available. 
Gearlab not only supplies us with the very best carbon kevlar paddles in the world (or at least we think so), but some of the most modern thinking in such simple items as deck bags, paddle carry bags, paddle floats and the like - all for the Greenland style paddle. We carry most of their products and can get whatever else you need within a week or so. Pictured are the award-winning deck pod, the innovative new gear wrap (an amazing way to easily pack and carry wet and unwieldy gear), and the rolling float (with multiple handles for practicing forward- and rear-finishing rolls, plus functions as a paddle float).
Malone Auto Racks is a privately owned rack accessory and leading sports trailer company located just outside Portland, Maine with a track record of 20+ years of industry leadership and innovation. Their products are sold in over 2,500 retail stores located throughout the United States, Canada and Europe. Everything produced by Malone and sold by us is Affordable to Buy, Easy to Install and Simple to Use. All Malone products are built to enhance our customers' enjoyment of the outdoors while minimizing their carbon footprint. We source car racks, kayak and canoe carriers, trailers, kayak rollers, and accessories from this Maine Coastal company.
Odessey NRS vest (Orange):
Mesh back for breathing and avoiding sweat;
We have in 2019 and 2020 styles called Ninja 
Protect your fiberglass boat ! KeelEazy is a self-adhesive strip that provides a durable surface anywhere that abrasion is a concern. Ideally suited for the keel of kayaks, it is also used on boats, canoes, jet skis, car doors, etc. KeelEazy Strips will adhere to fiberglass, polyethylene, thermoformed ABS and metal surfaces and can be molded over compound curves. The material is only 1/32" thick and comes in 2", 3" and 4" widths. The 2″ wide KeelEazy weighs only .6 ounces per foot. The product is lighter and stronger than fiberglass and really works. We've done dozens of boats without issue. KeelEazy is a must for those who paddle anything but soft sand. "We sell it in kit form or by the foot and can apply for you if you like".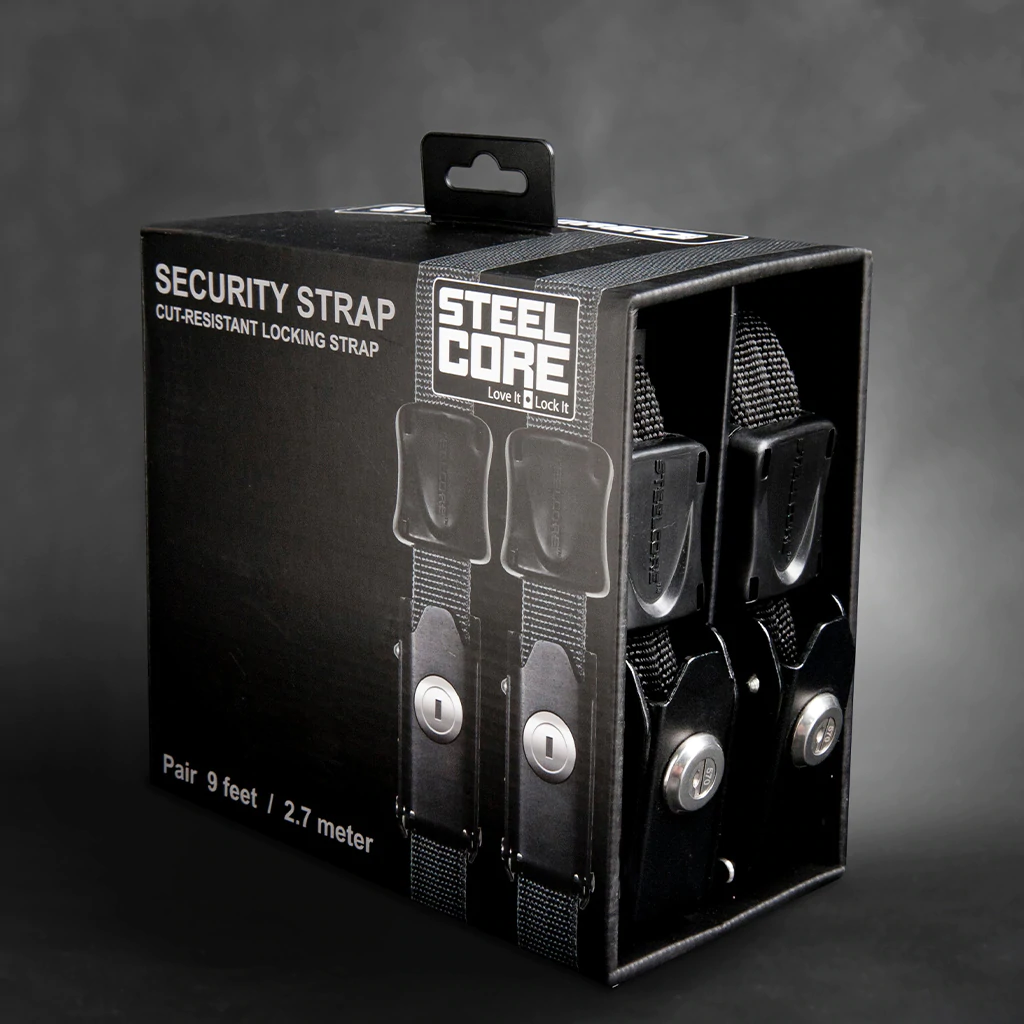 STEELCORE SECURITY STRAPS
Steelcore Theft Resistant Security Straps are ideal for securing your kayak investment. They have a braided 7/19 galvanized steel cable at the center, covered in a cut-resistant, heavyweight webbing made of a proprietary blend of steel and fibers, plus an aircraft-grade aluminum buckle assembly that is powder-coated for corrosion resistance. Custom made using a double-butted key and a pick-resistant design. Protect your new boat with the best!